Part I – Introduction to Factoring
What is Invoice Factoring?
Invoice Factoring Overview
Invoice factoring is a financing arrangement that gives a business fast access to cash. Many small businesses in need of working capital utilize factoring as a reliable alternative to a traditional line of credit. When cash flow strains a business, invoice factoring unlocks the value tied up in the business's accounts receivable. Also, the term factoring is often used interchangeably with accounts receivable financing. For a more detailed look at How Factoring Works, Is Factoring the Right Fit, and the Costs of Factoring  see the bank's invoice factoring section of the site.
How Does Invoice Factoring Work?
An invoice factoring arrangement involves three parties: The Business (the seller of invoices), The Business's Customer (the debtor) and the Factor (factoring company).
A business sells its invoices to a third party financing partner (factor). Rather than waiting 30, 60 or 90 days for a customer to pay, funds are available to the business within 24 hours.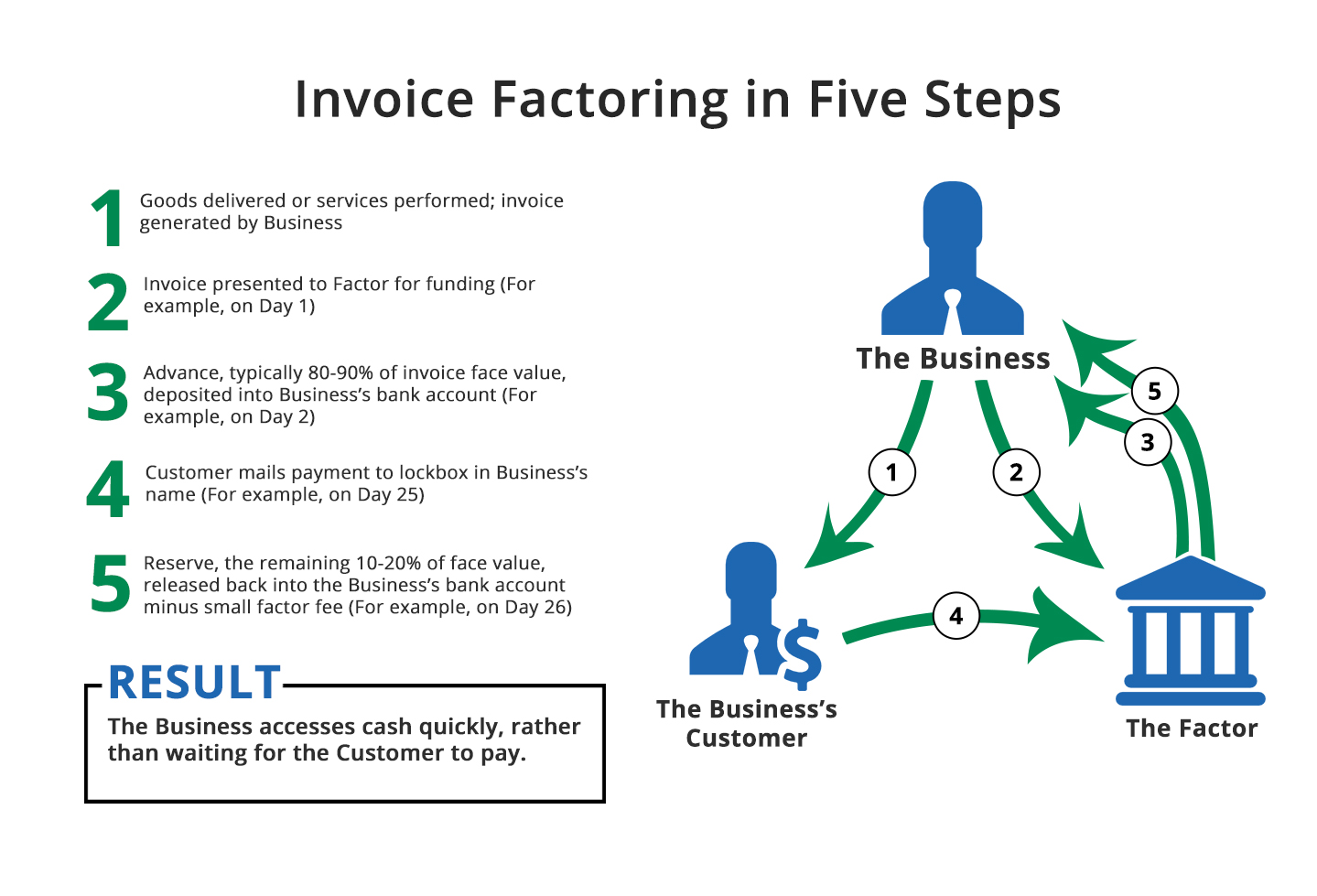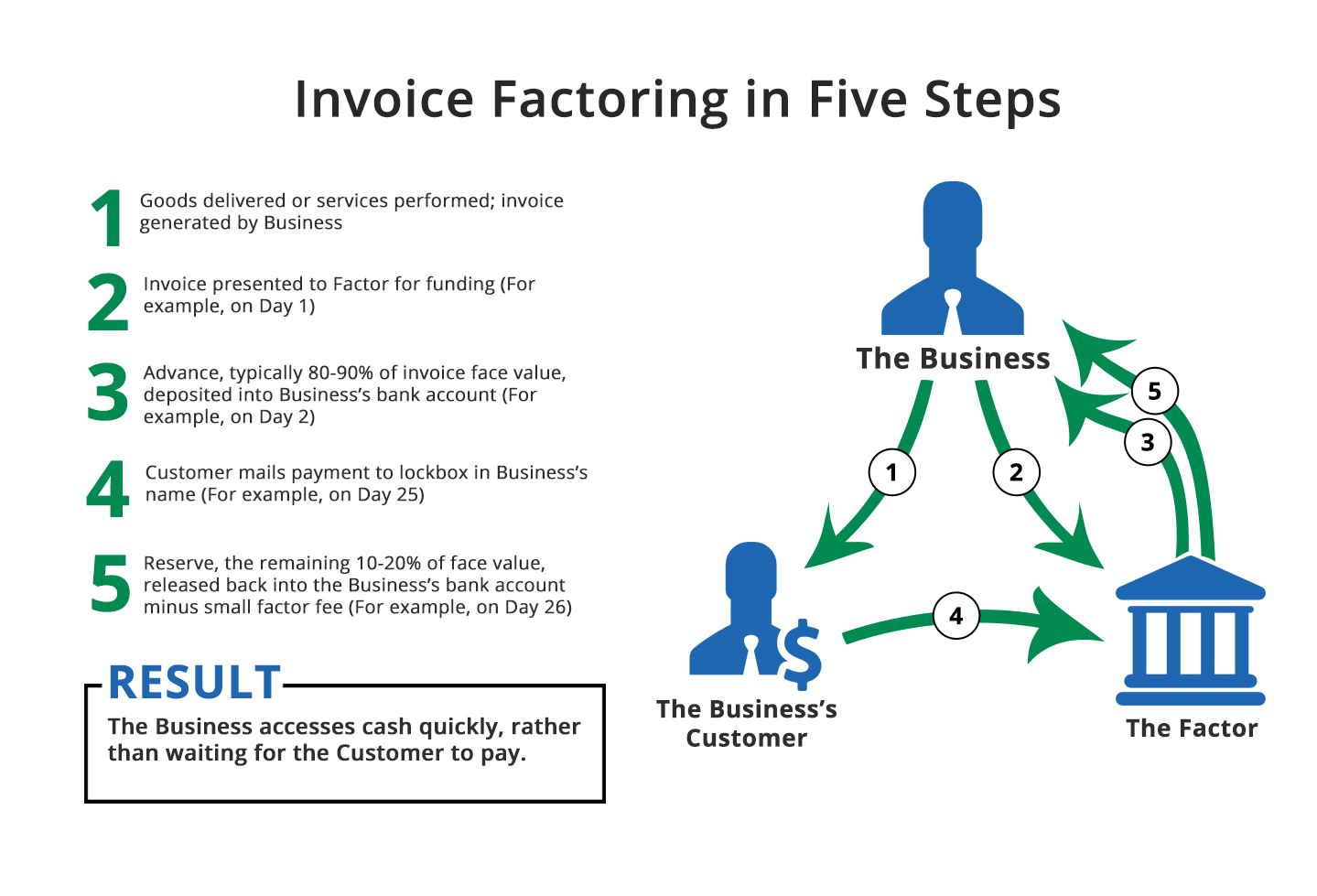 Factoring improves cash flow management for new and growing businesses. In addition to providing working capital, it also supports the business with credit verification and payment collections functions.
What is a Factoring Company?
Chances are if you're a business owner and you've found this article, you're considering various financing options available to you. Alternative financing options are becoming more prevalent with the expansion on online lenders, so you may be asking "What is a factoring company?"
A factoring company is a financing partner who helps businesses in need of faster cash flow. These businesses typically face timing challenges of slow-paying customers or need funds to ramp up growth. Factoring companies come in many varieties – independent financiers, financial institutions and multinational corporations to name a few.
Each factoring company has its own way of doing things, but they all share the common function of purchasing a business's accounts receivable (AR). A business's AR represents goods or services already produced and delivered to the buyer. The business has invoiced their customer which is why this type of financing is known as invoice factoring.
How Factoring Works
A factoring company works with a business, as well as with the business's customers (account debtors), to accelerate the movement of cash flow through the business. A detailed look at how factoring works shows the involvement of each party.
Invoice Factoring vs. Bank Loans
Factoring & Bank Loan Comparison
The comparison of factoring vs bank loans comes up often among businesses looking to access working capital. As a factoring bank, The Southern Bank offers a unique perspective on answering this question. We provide businesses in all industries and sizes a broad range of commercial lending options. These include invoice factoring and traditional bank loans. We also help transition borrowers from factoring to traditional bank loans. While factoring and bank loans both inject much needed capital into a business, the two options are more different than alike. Here, we'll assess factoring vs bank loans to give business owner's an idea of how these two financing options compare.
Need for Funding
Every business needs funding at some point – to get started, meet payroll, invest in marketing or cover other expenses. Self-funding or borrowing from friends and family often serves as an initial starting place. A business's primary banking relationship often becomes the next step in the quest for funding. Even though the bank may know the business and owners personally, meeting the lending criteria for traditional bank loans has become very difficult. In cases like this, exploring the differences between factoring and bank loans, as well as other alternate funding sources, makes sense for businesses trying to fully evaluate their financing options.
Bank Loans Difficult to Secure
Although the lending market has strengthened in recent years, the effects of the last financial crisis are still being felt by business owners. In the wake of tightening underwriting criteria, many businesses have faced turndowns by a bank. Bank underwriting criteria are notoriously stringent. As a baseline, applicants need a business plan and solid credit profile to be considered for a line of credit or loan. From there, the "5 Cs" of credit analysis also weigh into the decision.
5 Cs a Bank Uses to Assess a Borrower
• Capacity- Ability to repay, cash flow of business, timing for repayment
• Capital – Money you personally have in the business
• Collateral – For a secured loan, the assets that you will pledge
• Conditions – What the money will be used for
• Character – General impression of the individual
With all this information the bank will then make a risk determination and assess confidence in the business's ability to repay the commitment. The bottom line is that traditional loans are hard to secure. Even if a business does get approved for a loan, it's often not for the full required amount the business needs.
If the Bank Tells you "No"
While a business should explore traditional options, management should not get discouraged if the bank comes back with a "no" for a loan or line of credit request. It is not uncommon for a business to be turned down. Even if the bank can't extend a traditional bank loan, the bank can provide a referral for an alternative type of funding if one is not available in-house. Here at The Southern Bank, we maintain the unique position of serving businesses as a factoring bank. When a primary banking partner can't help, we step in as a FDIC-insured factoring partner to help the business in need.
Independent factoring companies and finance companies also operate in this space. Many of these companies function as a middleman and don't have the same direct access and low cost of funds as a factoring bank partner. There is also a lot of buzz around online lenders and newer alternative funding sources. Many of these companies lead with very low teaser rates or sneak in complicated deal structures. As you determine if factoring or another alternative funding option can work for your business, be sure to fully vet a stable and trustworthy financing partner.
Is Factoring a Fit?
When traditional bank loans aren't a fit, invoice factoring provides a fast and flexible way to fund a business. Factoring helps a business unlock the value tied up in its accounts receivable. Hence, the alternate names accounts receivable financing or accounts receivable factoring also describe factoring. In invoice factoring, a business sells its invoices to a factoring company in exchange for an advance on those funds. Factoring allows business-to-business firms the ability to get out from under a cash crunch by accelerating the business's cash flow. See this How Factoring Works diagram for more detail.
Although factoring has been around as long as people have been trading goods, many business owners don't know about factoring. Since most business owners have an understanding of how traditional bank loans work, we'll take a look at factoring vs bank loans from this perspective.
The Main Differences
Factoring vs. Bank Loans Table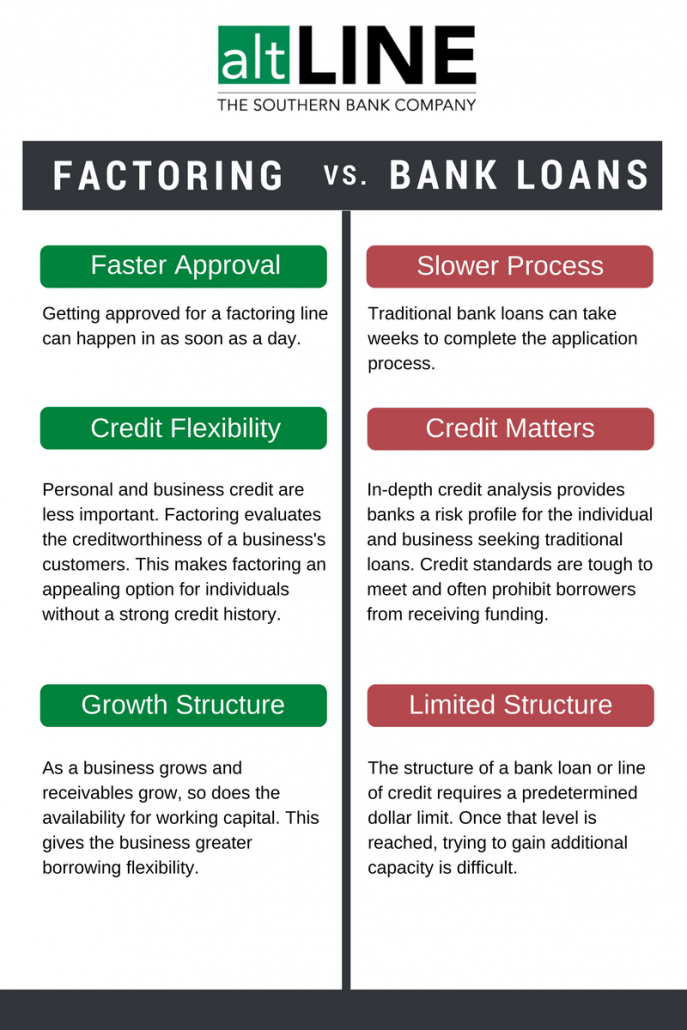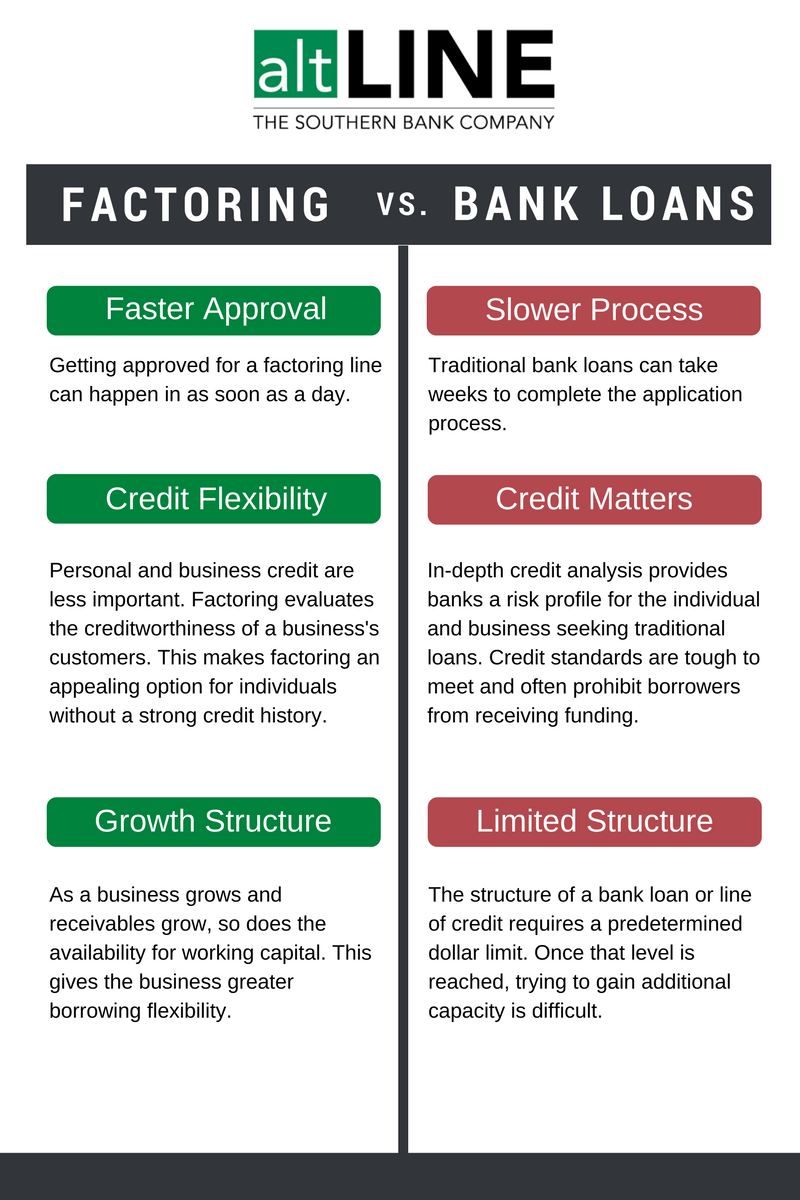 As the chart summarizes, speed and flexibility are the drivers behind the difference between factoring vs. bank loans. We're here to answer any further questions you may have.
Invoice Factoring Advantages and Disadvantages
Invoice factoring can help business owners fill the gap between when an invoice is created and when the customer actually pays. It's a way of obtaining cash to invest back into your company sooner rather than later, though you'll want to be wary of extraneous fees and sneaky policies before sealing the deal.
What are the Advantages of Factoring?
Whether you're a small business owner or manage a large operation, factoring can be an asset for your B2B strategy. It offers benefits that other traditional lending options can't provide, and is a more accessible solution for many businesses. To help break it down, here are some advantages of invoice factoring:
1) Quick cash for your business
Probably the most obvious reason why people turn to invoice factoring, it provides fast cash to keep processes running smoothly.
There are legitimate reasons why a business owner would need to get access to the fast cash, such as:
Paying employees
Settling monthly bills
Bringing in fresh inventory
Expanding to a new location
In general, keeping cash on hand means you can say "yes" to a new opportunity, instead of passing it up because you're waiting for funds to come through.
2) Easier approval than a traditional loan
Getting a loan can be out-of-reach for businesses with limited collateral and a short financial history. However, invoice factoring companies pay most attention to the credit scores of your customers. That means a faulty or nonexistent track record won't matter as much when you apply.
3) More flexibility for your clients
Increased cash flow for your company means you're able to allow customers a little more leeway. Instead of requiring immediate payment, you can give them a month or more to complete the invoice, without worrying about the strain it'll place on your own business.
4) Limited risk for you
Unlike a traditional loan, which requires collateral, invoice factoring is unsecured. So you won't need to worry about valuable assets being seized if the customer fails to pay.
5) Helps manage overdrafts
Invoice factoring can help you meet the required minimum balances on your bank account and pay settle your businesses own dues so that you don't have to risk defaulting on financial commitments
6) Highly accessible
After you initially set up an account with an invoice factoring company, you should be able to receive cash within hours of submitting an invoice. These days, you can usually manage the process entirely online.
What are the Disadvantages of Factoring?
That said, factoring isn't always the best option for everyone. Be sure to weigh the potential drawbacks before determining what's best for your business. Here are some of the potential disadvantages of invoice factoring:
1) There's a stigma
While invoice factoring is, at its core, a business practice like any other, it has a bit of a shady past. Lenders have been known to take advantage of clients with confusing language and dodgy practices, though industry standards have since evolved for more transparent transactions.
2) Reduced profit margins
The factor company basically takes a cut out of each invoice. Even though it can be as low as 1-3%, you're still losing a bit of income in the long run which may affect your company's monthly budget.
3) Customers' credit score could thwart financing
Though the pressure to have good credit is off your shoulders, a factoring company will need to verify your customers' creditworthiness before taking the invoice. If the rating isn't up to snuff, your invoice factoring request might be denied.
4) Collection isn't guaranteed
Just because the factoring company buys the invoice doesn't mean the customer is guaranteed to pay. In some cases, you might be required to settle the bill if the invoice isn't cleared.
5) It's a quick fix for only one problem
If customers are delaying payments and it's messing with your business plan, it may indicate a more complex problem that needs a different strategy to stabilize things for the long-term.
6) Hidden costs and fees from shady providers
Not all factoring companies are the same, and some will try to take advantage of you. Application, processing, credit check, and late payment fees can add up – quickly. Even if you're OK with the quoted factoring rate, be wary of additional costs and be sure to conduct thorough research before signing on. Make sure to read the fine print, and ask questions up front.
Like any business practice, invoice factoring comes with pros and cons. Carefully consider the why behind your choice. Will it help your company grow and expand? Are you planning on investing the money back into your merchandise or employees?
If your answer is yes, the advantages of factoring likely outweigh the disadvantages. If you're interested in learning how it may work for you, request your free factoring quote from altLINE with basic information about your business. Find out why our customers trust us over the competition!
For more information, check out these helpful links to other valuable resources:
https://www.nerdwallet.com/blog/small-business/small-business-invoice-factoring/
https://www.valuepenguin.com/small-business/invoice-factoring-vs-invoice-discounting
https://www.forbes.com/sites/forbesfinancecouncil/2019/03/27/the-evolution-of-factoring-why-its-no-longer-an-f-word/#49e1c37a67ed
The Factoring Approval Process
An increasing number of businesses are discovering the advantages of invoice factoring, the biggest of which is quick access to capital. Anyone who has applied for a business loan through a bank understands how cumbersome and lengthy the process can be, often taking weeks for approval. Compare that to three or four business days for approval and funding through invoice factoring and it's not surprising that many businesses are now using it as their default source of capital.
The invoice factoring approval process is much more streamlined and far less cumbersome, offering businesses more flexibility and security in meeting their cash needs.
However, the approval process can differ among the various factoring companies, with varying costs, requirements and timelines. It would be important to know how the process should work and what to expect when you contact a factoring company so you can make the proper comparisons.
While the process is typically quicker and easier than traditional bank financing, applying for invoice factoring services still requires thoroughness and attention to detail. The more prepared you are, the more smoothly the process will go, which means quicker access to the cash your business needs.
Here's how the approval process works:
Once you've received your quote from a factoring company, there are four basic steps until you get your cash.
1) Request a Quote
When you contact a factoring company for a quote, you may speak with an invoice factoring services specialist to discuss the options available to you based some initial questions about your business' financial history and needs. You should be prepared to provide some information about your business, such as:
Number of current customers
Your average monthly revenue
Number and amount in outstanding invoices
Current or past liens or judgments against your business
If you're not asked for this information in your initial call, you will certainly be asked on the application.
Before they can provide you with a rate quote, you will need to complete an application and provide supporting documents.
2) Submit Application and Supporting Documents
This is where the invoice factoring approval process can vary among companies. Some companies charge an application or due diligence fee while others charge nothing. In most cases, the application process takes place virtually – online, through phone calls, faxes, and email. It is important to be thorough in your application to avoid back and forth phone calls asking for clarification. In addition to the application, you need to submit supporting documents, including articles of organization or incorporation, bank statements, copies of current invoices, and a payables aging report.
Some factoring companies may provide an initial rate quote upon receiving the applications but it won't be confirmed until everything has gone through the underwriting process.
3) Factor Underwriting
The factoring company reviews your application and documentation to determine your rate. There is typically no credit check because the factoring company is mostly concerned with the creditworthiness of your customers. So, much of their due diligence is spent looking into their payment histories. In most cases, underwriting is completed within a day or two and the factoring company will notify you of your approval.
4) Establish the Factoring Account and Get Funding
When you are approved, the factoring company sets up a factoring account to handle the transactions. Once established, your factoring account can be used for all future invoice factoring.
When you sell your invoices to the factor, it submits a notice of assignment and then provides a cash advance of up to 90% of invoice face value. The remaining funds are held in a reserve account until the factor receives payment from your customer at which point it deducts its factor fee and remits the balance to your business.
Funds are typically available to your business within one to two days of approval.
It's All Downhill From There
That's it. A simple and straightforward process taking less than four days to complete. Going forward it gets even easier to access capital for your business. With your factoring account already established, all you need do is submit a new invoice and funds can be available as quickly as one to two days.
At altLINE, we pride ourselves on our highly streamlined and professional invoice factoring process. There are no hidden fees and, as a direct funding source, our clients save on their borrowing costs. We invite you to learn more about the advantages of partnering with altLINE for your funding needs.
Is Invoice Factoring the Same as A/R Financing?
Does your business need financing to grow or improve cash flow? If so, invoice factoring and accounts receivable financing may be options you're exploring. A tremendous amount of information exists online, but the viewpoints often prove more confusing than helpful. Many financing and factoring companies use the terms factoring and accounts receivable financing interchangeably. In this post, we'll address the similarities and differences of factoring and accounts receivable financing as we see it. For a quick overview, see the Financing Product Comparison table.
What is Invoice Factoring?
In a previous post, we define invoice factoring as a type of commercial finance that converts outstanding invoices into immediate cash. Factoring serves as a reliable alternative to a line of credit and helps businesses who:
Face slow-paying customers
Experience seasonality
Want to grow and expand
Want to launch as a start-up
How Invoice Factoring Works
In factoring, a business sells its invoices to a third party factor. The business can choose which invoices it wants to factor. The business presents a schedule (most often daily or weekly) to the factoring company detailing which invoices to factor. Then, the factoring company immediately advances a pre-determined percentage (typically 70-90%) of that total invoice value into the business's checking account. Once the debtor pays the invoice under the payment terms, the factoring company pays out the remaining invoice amount less a small administrative fee. Thus, invoice factoring is an ideal financing solution for a business not wanting to wait 30,60 or 90 days for their receivables to roll in.
What is AR Financing?
Accounts receivable (AR) financing also uses outstanding invoices to fund growth.  Like invoice factoring, AR financing serves as another alternative to a traditional line of credit and helps businesses who:
Expect steady growth and expansion
Experience seasonality
May not be in a position for a traditional bank loan, but working towards it
How AR Financing Works
In accounts receivable financing, a business sells all of its invoices to establish a borrowing base. Similar to a traditional line of credit, the receivables line operates as a revolver. So, in AR financing the receivables are pooled.
Similar, Yet Different
Both invoice factoring and AR financing benefit businesses by providing funds in advance of collection. When cash flow timing matters most, both of these financing options quickly put money into the business. In addition, both offer professional credit services and receivables management.
The main difference between invoice factoring and AR financing lies in the underwriting criteria of the deal structures. While factoring offers greater flexibility, AR financing has more strictness around the credit profile. Consequently, AR financing typically offers preferred financing terms.
Answering Your Questions
Here at The Southern Bank, transparency defines our approach. If you're like most of our customers, getting straight forward answers and understanding the detailed financial implications to your business are key factors in your financing decision. We explain and clarify along the way so you aren't left wondering what you signed up for. Researching partners and need a question answered? Contact us and get your questions answered today.
Invoice Factoring vs. Invoice Discounting
The rising popularity of invoice factoring as a no-fuss, no-muss funding source for businesses has spawned an entire industry of factoring companies offering a range of options to address the varying types, needs, and preferences of businesses. Two of the more popular options – invoice factoring and invoice discounting – are often mistaken for each other. While they are both designed to achieve the same objective – making capital available for businesses quickly and easily – they differ in the way they achieve it. The differences are significant enough to make either alternative more or less suitable for a particular business based on its size, financial strength, and capacity to perform collections.
We explain the differences between invoice factoring and invoice discounting and why one might be preferred over the other.
What is Invoice Factoring?
With invoice factoring, a business sells its unpaid invoices to a factoring company in exchange for an advance on those invoices. The amount of advance can range from 70% to 90% of the face value of the invoice. The factoring company retains the balance in a temporary reserve account until the invoices are paid when it then remits it to the business minus a fee.
For example, Stan's Fertilizer Company ships 10 tons of fertilizer to ACME Farms and then prepares an invoice for $5,000 payable in 30 days. Stan's then sells the invoice to a factoring company which then advances $4,000 to Stan's. The factoring company then sends its own invoice to ACME for payment.
After 25 days, ACME pays the $5,000 to the factoring company. The factoring company then transfers $800 to Stan's bank account, withholding $200 to cover its fees. As a result of this factoring transaction, Stan's received immediate access to funds owed by ACME to use in its business and it ultimately collected 96% of the original invoice.
What is Invoice Discounting?
As with invoice factoring, invoice discounting is a straightforward transaction in which a factoring company provides a cash advance based on the face value of an invoice. The major difference is that the business receiving the cash advance retains the responsibility for collecting payment. It works this way:
Instead of sending a copy of the invoice to the factoring company, Stan's sends the invoice directly to ACME Farms. When the invoice is prepared on Stan's accounting program, it is shared with the factoring company, which then transfers the cash advance of 70% to 90% of the invoice face value. A trust account is established with the factoring company for receiving the payment from ACME Farms. When the payment is received in full, the factoring company transfers the remainder of the invoice value less the factoring fee.
Main Differences Between Factoring and Discounting
The big difference is who maintains responsibility for collecting payment. With invoice factoring, the factor is responsible for collection. With invoice discounting, the business is responsible for collection, so the customer is unaware a factoring company is involved.
The other significant difference is the fees for invoice discounting are typically less than the fees for invoice discounting because the factoring company is not responsible for collecting the payment. Fees for invoice factoring tend to range from 1% to 5% while fees for invoice discounting can range from 1.5% to 2.5%.
Another significant difference is the level of commitment required by the factoring company. With invoice factoring, a business can select which invoices it wants to sell to the factoring company. With invoice discounting, the factoring company typically requires that the business submit its entire invoice book.
Factoring or Discounting – Which Should You Choose?
You might prefer factoring if you have a smaller business with limited resources for collecting invoice payments. Some businesses use factors specifically for that reason.
Factoring might make sense if you don't care whether your customers know you are using a factor. Some businesses use it as a selling point – i.e., more resources can be used to service the customer.
Factoring would be the better option if you want more flexibility in choosing which invoices to factor.
Discounting may be more preferable for companies that have the resources to perform their own collections. The fees are smaller so they can save on financing costs.
Discounting is preferred by companies that would rather not let their customers know they are factoring their invoices.
We invite you to take advantage of altLINE's 80 years of experience working with small- and medium-sized businesses to explore funding options for your business. Request a quote today.
Part II – Working with Factoring Companies
Choosing the Best Factoring Company
With so many options, choosing the best factoring company for your business may seem overwhelming. No two factoring companies do things exactly the same – they specialize in different industries, offer different terms and use different language. These differences make comparing factoring companies difficult.
Five questions to ask a factoring company:
1. How long have you been in business?
The best factoring companies have experience in the industry. Anyone with access to capital can set up a factoring operation, so by selecting a partner with several years of experience you automatically eliminate those factoring companies without a proven and stable operating history. The best factoring companies have invested time in improving procedures and protocols to give your business and your customers the best possible experience.
The International Factoring Association (IFA)'s latest Factoring Industry Survey states that 25% of factoring companies surveyed have been in business five years or less. While the influx of new factoring companies ultimately helps businesses through increased competition, make sure that your factoring company has been in business at least two years.
2. What are your terms, fees and funding limits?
The nuances of the financial details present the most variability when choosing the best factoring company for your business. Review proposals and contracts with your accountant to minimize unexpected financial impact.
The terms of the agreement include such aspects as contract length and whether every (or select) invoices will be factored. The industry standard is one to two years for an agreement term. Agreements typically auto-renew if 60 or 90-day notice isn't given. Some factoring companies require factoring all invoices, while others allow for select invoices to be factored.
Fees can quickly add up and affect your bottom line. The best factoring companies present fees in an upfront manner and don't try to sneak them in. Some fees to look out for include:
application fee
monitoring fee
credit reporting fee
fee for adding a new factoring customer
ACH fee
wire fee – for all wire transfers the Federal Reserve charges a convenience fee, but some factoring companies increase that fee
monthly volume fee – while this is a common fee to ensure the factoring partnership is being utilized, watch out for excessive rates
early termination fee – another common fee, but watch for high rates and long notification period
The funding limit describes the capacity of the line your business will be able to receive. Whether $100,000 or $100,000,000, you want a factoring partner who openly discusses these limitations. As your business grows, you'll want to have a plan for the next phase. You don't want to wait until you're up against the limit to make the plan. Find a partner who can grow with you.
3. How frequently and quickly will our invoices be funded and payments applied?
The best factoring companies allow a business to submit and factor invoices daily. The business presents the invoices, while the factoring team processes and funds within 12-24 hours. Since some factoring companies take longer to process and fund your receivables, make sure your factoring company's speed matches your cash flow needs.
When your customers' payments arrive in the lockbox, you want the payment amount applied to your account quickly. The "float" impacts your outstanding balance and the amount of your factoring fees, so can significantly affect your bottom line. Look for payments to be applied daily.
4. How does the factoring company interact with my customers?
The best factoring companies receive your consent to interact with your customers. In these scenarios you're aware of communication with your most valuable relationships – your customers. Many factoring companies will reach out to your customers whether or not you're aware of it. This type of unexpected communication can build tension in a customer relationship. Find a factoring partner who is willing to take additional steps to make you feel comfortable with the level of interaction and keeps you informed of the contact.
5. Where are the funds coming from?
The funds that the factoring company advances you are coming from somewhere. Find out where. Knowing the origins will help you better understand how competitive your cost of funds is. A direct lender, such as a bank factoring company, receives funds from its rich deposit base, so the cost of funds is low. A bank-backed factoring company passes along these savings to factoring customers in the form of low rates.
Traditional factoring companies and independent financing companies must borrow the funds from someone else, so they serve as middlemen. As a result, the rates you pay these companies typically run higher to cover the additional cost of the borrowed money they advance your business.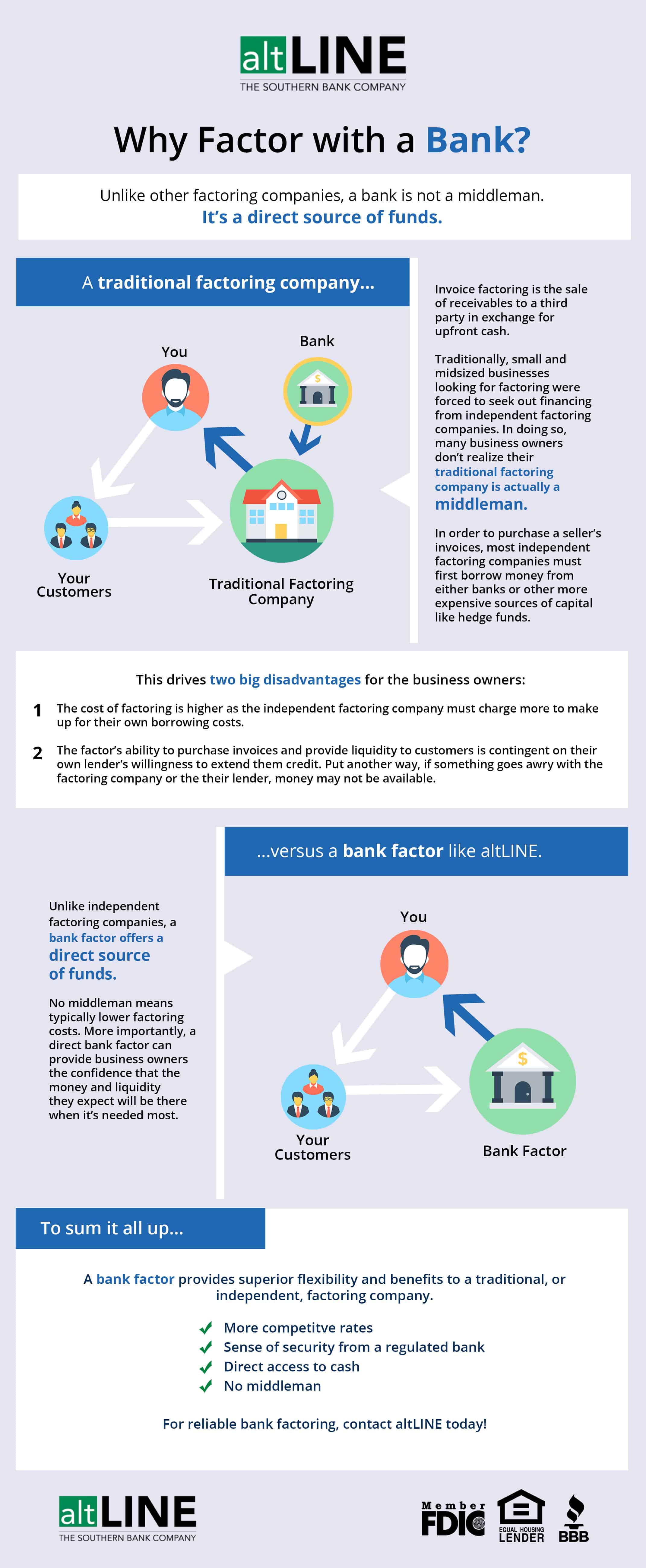 Here to help
Looking for recommendations?  Not sure if you're getting the full story from your current factoring partner? Don't hesitate to contact us today and we'd be happy to provide our thoughts and help guide you in your decision process.
What to Look for in a Factoring Company?
Is your business currently factoring its receivables? Are you thinking about engaging in a factoring relationship? If so, there are a couple of things you need to look out for when evaluating potential funding partners and their factoring contracts.
1. Flexibility
First and foremost, don't get locked in to a long-term contract. Contracts with one year terms are one thing and should be expected. Contracts with multi-year terms and significant or even undefined termination penalties should be avoided like the plague.
Similarly, if your factoring agreement states that you must sell all of your receivables regardless of your need to do so, you should start looking around. Your factoring arrangement should mimic the flexibility of a traditional line of credit.
If your factor is not open to discussing these terms, shop around and keep looking.
2. Direct Source of Funds
Why is it important to understand where your factor is getting their money? Because like all supply chains, more middlemen likely equates to more costs passed on to the end user.
If your factoring company is borrowing its money from a bank and then utilizing its line to purchase your receivables, then there are two important things to note:
The cost of borrowing their funds from their bank is likely passed through to your business in the form of higher rates.
The stability and security of your funding is reliant on your factoring company's ability to remain in the good graces of their bank.
The easiest way to ensure your factor is providing a direct source of funds is to work with the source of funds itself – a bank. Alternatively, if your factor is an independent financing company, ask where they get their funding from and how long they've maintained that relationship.
In the event of economic turmoil, you'll want to know that your financing partner won't be cut off.
3. Professionalism
Whichever company you choose to factor your receivables, ensuring that your counterparty is a qualified, respected, and professional organization is easily the most important attribute of a successful factoring relationship.
How do you know if your factor is reputable? Just look at their interactions with your business in the buying process.
Are they not only knowledgeable about their own products but your business as well?
Is their pricing straightforward with no lockbox fees, transaction fees, clearance fees, etc.?
 Are they responsive to your calls, emails, and questions?
 Would you hire them for your business?
Rate is important, keeping your customers happy and loyal is critical. Don't shop solely on price and make sure your factoring company is who you want representing your business.
Comparing Factoring Companies
If you've already determined factoring, or Accounts Receivable financing, is the right fit for your business or you're in the early stages of researching and comparing factoring companies, it's important to keep a few things in mind.
Get it Right the First Time
First, there is no shortage of options. In fact, there are hundreds of financial companies that are willing to work with you to finance your business. While choice is good, identifying the right factoring company is crucial. Before signing a contract, spend the time up front talking to industry peers, business advisers, and researching online to ensure you're speaking with reputable companies.
Factoring contracts use familiar financial terms, but the impact of these terms can feel foreign if you haven't factored before. Many factoring companies utilize fees (transaction, lock-box, monthly minimums, etc.) in conjunction with interest rates to increase their revenue. Don't be fooled by low teaser rates with seemingly small fees. You may later realize that you're in fact paying significantly more than your competitor.
Also, be weary of long-term contracts that include large termination fees, right of first refusal, and other terms that may limit your flexibility and ability to make a change in the future.
Comparing Factoring Companies – More than Cost
Like all businesses, factoring companies have labor costs. Your factoring company's labor directly interacts with your customers on a daily basis in the collection of receivables. The most important, and perhaps most overlooked, trait you should look for in your factor is the factoring company's ability to manage and protect the relationship between you and your customers. When comparing factoring companies, make sure you're not basing your choice solely on cost and select a company that invests in their people because your factors staff will in many ways be perceived as representative of your own company.
Questions? Contact The Southern Bank
Looking for recommendations? Trying to analyze a complex agreement? Not sure if you're getting the full story from your current partner? Don't hesitate to contact us today.  We're happy to provide our thoughts and help guide you in your decision process.
Switching Factoring Companies
As with any financing relationship, make it a priority to understand your exit strategy options with your factoring company. Before you enter into the relationship, ensure you know the steps to take and associated penalties in case you need to break the contract.
Switching your financing partner to another factoring company may be beneficial in situations including:
• Better pricing found elsewhere
• Unsatisfactory level of service with current funding partner
• Desire to switch to a partner with expertise in your industry
In the event of an early termination, several factors you'll need to be aware of include: length of agreement, auto-renewals, window for notification, early termination fees and other penalties associated with terminating.
In addition to exit terms, we'll be taking a closer look at three other important areas of an invoice factoring agreement in separate posts: float, fee structure and notice of assignment.
Length of Agreement with a Factoring Company
A one (1) year term is the most common length of an invoice factoring agreement. However, terms lasting as long as two and three years exist with some factoring companies. A shorter term equates to more flexibility. For optimal flexibility, don't agree to terms longer than one year.
Auto-renewal and Window for Notification
The length of agreement (term) also becomes a factor with the auto-renewal clause. Most factoring agreements automatically renew for another subsequent term without termination notice. For example, if your two-year contract expires in June of 2017 and you miss the window for notification, you are automatically locked in for another two years or until at least June of 2019.
Know your auto-renewal date (typically the date the contract was signed). More importantly, know the window for notification. Two to three months is the most common window for notification, but longer lead times do exist. Mark the notification date on your calendar and have a conversation with your factoring company. By not giving notice, you will automatically be locked in for another term and will not have an opportunity to reevaluate your position and negotiate a better deal.
Early Termination Fees by Factoring Companies
Setting up the relationship requires time and resources by the factoring company at the onset, so it typically takes the contract term to recover those costs. Factoring companies ensure they cover these costs by imposing early termination fees.
A simple and common early termination fee is calculated as (monthly minimum fee X the number of months remaining in the term). Look for these variables to be outlined in your invoice factoring agreement. Another calculation could be (monthly minimum volume X a pre-determined percentage). Crunch the numbers before signing your agreement to understand what an early termination would cost.
Summary
To recap, when you sign an agreement with a factoring company:
1. Remember a shorter term is best, don't sign multi-year agreements.
2. Know your notification date and set up a calendar reminder to review the agreement each year.
3. Understand how much it would cost to exit your agreement early in case you find yourself wanting to go with another partner.
Part III – Factoring Details That Matter
Factoring Myths and Misconceptions
All growing businesses reach a critical juncture when they need access to capital to get to the next level. Whether it's for hiring more staff, expanding operations, buying inventory, or taking on new customers, small businesses often come up short due to the lag between growing sales and the cash flow it creates. Invoice factoring is becoming a go-to funding source for businesses that don't want to rely on traditional financing through banks.
Although invoice factoring has been a legitimate funding solution for several centuries, it is often misunderstood, leading to misconceptions about what it is and how it works. These are some of the more common myths about factoring along with the actual facts that debunk them.
Myth #1: Factoring is only for struggling, failing businesses
While factoring is a possible solution for businesses experiencing financial problems, it is more commonly used by growing businesses that need a reliable source of capital. Instead of trying to obtain a bank loan or line of credit, which can be less flexible and difficult to qualify for, businesses can use factoring for quick and easy access to the capital they need to keep growing their business. For many businesses, having a mechanism in place, with ready access to cash when it's needed, is sound financial management.
Myth #2: Factoring is expensive
Invoice Factoring may not be the least expensive form of financing but, when you add up all of its benefits, it can be less costly than traditional financing. Because bank loans have fixed terms, businesses can end up carrying debt and paying more in interest costs over time. With factoring, businesses can control their financing costs by only paying a fee for temporary access to capital. And, because factoring is considered a transfer of assets, it is not carried as debt on your balance sheet. In addition, providers offer essential back-office services such as invoice verification, billing, and collections, which can reduce a business's operating costs.
Myth #3: Factoring companies harass your customers
For any factoring company that wants to be successful, it is vital that the relationship between a business and its customers remain positive. A reputable company strives to treat customers professionally and respectfully so they can build on their relationship with the business.
Myth #4: My customers will hate that I'm factoring their invoices
Whether it's through a bank or a factoring company, businesses use financing to enhance their business and support their growth. Customers generally want to know that a business has sufficient capital to meet their needs. They also know that most businesses use financing to access capital. For many businesses, it's is a better financing option because it is more responsive to its needs.
Myth #5: Factoring companies won't work with businesses that are not "established"
Factoring is a fast-growing industry and the market is highly competitive. While you may find that some of the larger and more established providers shy away from smaller businesses, there are many more that will take your business. If your business is growing, you should have no problem finding an up-and-coming provider that wants to grow with you.
Myth #6: I can't use factoring if I have a low credit score
Another advantage of factoring over traditional financing is your business doesn't need to have a credit history to qualify for financing. Providers rely on the creditworthiness of the business's customers in qualifying it for factor financing.
Myth #7: All factoring companies are the same
As with any industry, some factoring companies are better than others. Some operate purely as a middleman between a business and a bank, passing borrowing costs on to their customers. Those that are struggling to achieve profitability tend to skimp on customer service or technology. Some want to lock clients in unfavorable agreements. But most factors are interested in building solid, mutually beneficial relationships with their clients. It's important to do the research to find the best factoring company for your needs.
While factoring isn't new, its use is growing among businesses that need more financing options. So, it's not surprising that there might be some misconceptions. However, when businesses realize that providers want to be a partner in their growth, it can be the beginning of an enduring relationship.
altLINE is a direct source of funds so we are not exposed to borrowing costs that other independent financing and factoring companies pass on to their clients. And, unlike other providers that hide a range of fees, our transparent pricing structure keeps you in control of your financing costs.
If your business needs a responsive and reliable source of capital, contact us about factoring with altLINE and get a free quote today.
Invoice Factoring: Factors at Play
What Determines Invoice Factoring Rates?
In invoice factoring, a business sells its accounts receivable to a third party factor in exchange for a cash advance. The factor awaits payment from the customer and then withholds a small service fee, known as a factor fee. The factor fee equals the discount rate charged on the face value of the invoice. Every factoring company determines factoring rates in their own way. The primary drivers include: size of a business's borrowing need, creditworthiness of a business's customers, age of receivables and whether all or select invoices will be financed.
Size of the Borrowing Need
The size of a business and its associated borrowing need are primary factors contributing to a factoring rate. As general parameters, annual revenue of $1,000,000 to $50,000,000 and a borrowing need of $30,000 to $5,000,000 describe a potential business fit for invoice factoring. As volume increases and growth ramps up, an accounts receivable line expands with a business. With growth and expansion come savings due to scale. More money being borrowed makes it easier for the lender to cover the costs associated. Thus, expect a lower rate as the borrowing need increases.
Creditworthiness of Customers
The credit strength of a business's customers also affects a factoring rate. Large corporations, government entities and many of the best customers often demand longer payment time frames. These customers maintain solid credit profiles and a high likelihood of repayment. In instances like this, a business can leverage the strength of its customers' credit profiles to secure financing. As one of the most important factors, the credit data of a business's customers closely correlates to the factoring rate.
Average Age of Accounts Receivable
The weighted average of all outstanding invoices or "how long it takes customers to pay." In keeping with the time value of money theory, money available at the present time has more value than the same amount in the future. Accordingly, the factoring rate decreases if the customer pays in 15 days versus 45 days.
Group or Select Invoice Financing
Some factoring companies only buy accounts receivable in entirety, while other factoring companies give clients the choice of selling select invoices. Often the baseline assumption presumes that all invoices will be financed, so if not the rate may increase.
Summary
Comparing invoice factoring costs across lenders can be difficult because different terms, rates and fees will be specific to each lender. Keep the four factors above in mind and engage with a transparent lending partner.
At The Southern Bank Company, our successful 80-year banking history exemplifies our commitment to treating customers fairly and with the utmost transparency. Through our altLINE program, we provide competitive and straight forward accounts receivable lines.
Is Factoring

"

Float

"

Costing You?
Every invoice factoring company structures a deal a little differently, so it's often difficult to compare proposals. By focusing on a few key aspects of invoice factoring agreements, we aim to help business owners make better, more informed financing decisions. We'll be taking a closer look at four important areas of an invoice factoring agreement: exit terms, float, fee structure and notice of assignment.
"Float" tops the list of often unnoticed or misunderstood variables affecting the true cost of an invoice factoring arrangement. In fact, float days combined with common factoring pricing structures can increase your financing costs by more than 40%.
What is Invoice Factoring Float?
In finance, the term float can mean a lot of things. In invoice factoring relationships, float refers to the difference between the time the finance company receives a payment and when it gives the factoring customer credit for the payment.
Putting it in simpler terms, when payment is made by check or ACH, the transfer of money from bank account to bank account does not happen instantaneously. Instead, payments take a certain amount of time to clear. This period is often referred to as the float.
What are Float Days?
In a contract, float days are a time allowance for check clearance and may also be called clearance days.  A specific number of float days will be outlined in the invoice factoring contract. Look for these in the fine print – float days are likely to be left unexplained and accepted at face value, but it's important to recognize their impact.
Are Float Days Standard in Contracts?
Yes, float days are always present in invoice factoring agreements. First and foremost, the float provision helps protect the lender from bad checks or payments. Secondly, the lender continues to accrue interest during the float period. Three days is an industry standard, but longer terms of up to five float days is common.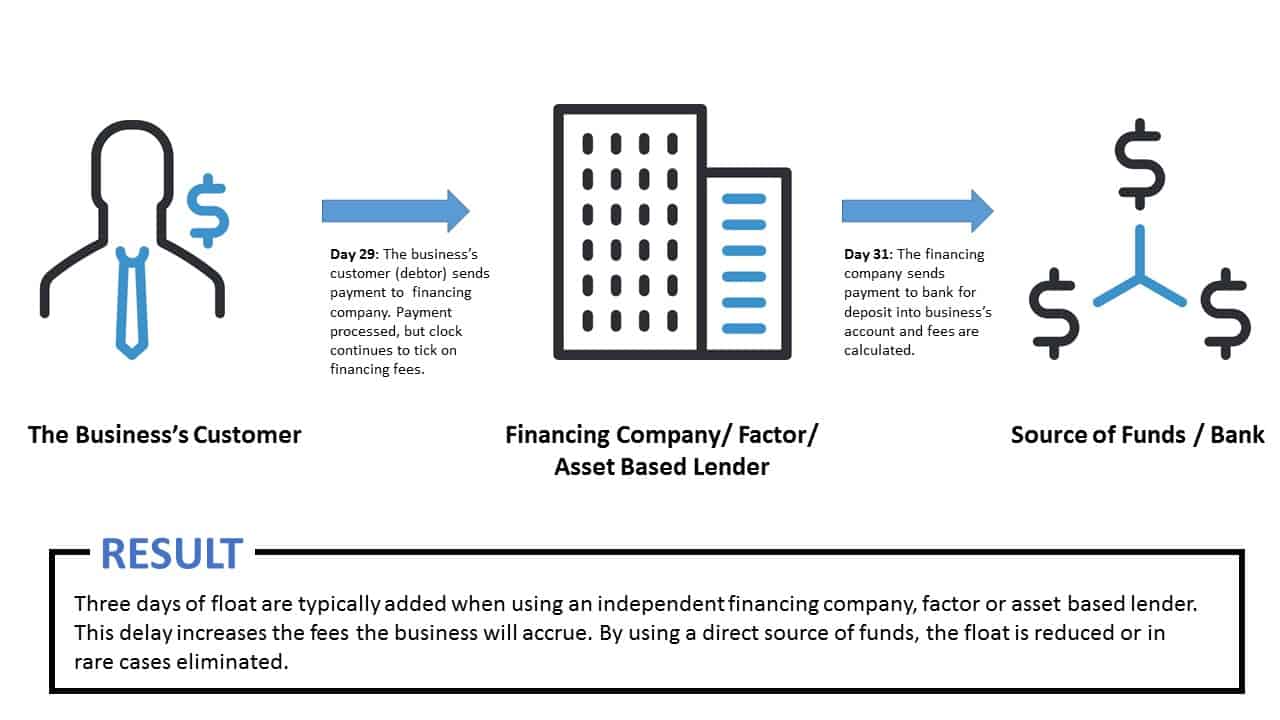 How do Float Days Affect my Financing Rate?
Float days are additional calendar days tacked on to the date the payment is received. In financing relationships with simple interest rate structures, float days are relatively harmless.
However, in factoring relationships with tiered fee structures, float days can have an enormous negative impact on your true financing costs. In these structures, the float is akin to a hidden fee that many factoring companies utilize to increase their returns at the borrower's expense.
Let's take a look at a real world example. Here's a fee structure one of our customers had with an independent factoring company:

In this same contract, the factor had a 3 day float provision. 3 extra days of fees after a customer payment was received. No big deal, right?
Wrong. The impact of this tiered pricing structure with a 3 day float provision increased their annual financing costs by 42%. And the worst part was that they had no idea how or why.
A Deeper Look
This particular company had two large customers that were on Net 30 terms. These companies paid like clockwork via ACH on either day 28, 29, 30. According to the rate table above, an invoice received on day 28 would appear to be charged a factor fee of 1.50%. However, with a 3 day float the invoice is actually not credited until Day 31. The resulting factor fee is actually 2.50% of the face value of the invoice. What may seem like a small three day hold period actually equates to a 66% higher fee on those on time payments.
With these two large, prompt paying customers making up a significant portion of their business, the company's annual financing costs were 42% higher – an increase entirely due to a tiered rate structure and 3 extra days of float.
The Impact of Float on Rate Table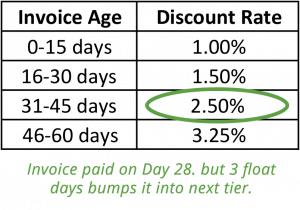 Why Isn't Float Discussed?
Most invoice factoring clients can tell you their discount rate, but don't understand the impact of float. Float is often left out of conversations and proposals, and often unrecognized by borrowers well into a factoring relationship.
Since float days equate to higher fees, the topic is rarely discussed in significant depth. However, business owners should run the numbers to fully understand what the effective rate will be once float days are added into the calculation.
How we're Different
Here at The Southern Bank, we put an enormous emphasis on pricing transparency. Our goal is to ensure each customer knows exactly what they're paying.
As such, our factoring program provides immediate reconciliation and application of debtor payments. More simply, when your customer payment arrives for a factored invoice in our lockbox or bank account, the interest and fee clock stops. Regardless of how long the money actually takes to "settle," you receive credit for the payment the day it arrives.
This means, no more factored invoices mysteriously floating to hire fee rates, no more confusion, and at the end of the day – lower costs.
Factoring for Consulting Firms
If you own or manage a consulting firm, you know that cash flow can be a problem. You incur unusually heavy upfront costs—to hire the best professionals and ensure they receive the ongoing training they need to remain up-to-date. However, the very clients you work so hard to help are sometimes hesitant to pay you on time. In addition, the work you do is irregular—you might have 3 projects one month, but none the next. Small business provider Insureon aptly describes the nature of the problem:
"As a management consultant, you've helped all kinds of clients improve their profitability, increase their revenue, and manage their finances — so it's somewhat ironic that small consulting firms often struggle with their own cash flow problems. With the feast or famine nature of your work, consulting firms have highly irregular income and will need to take precautions to weather lean months and ensure they're saving enough of their revenue during busy times."
How Do You Improve Cash Flow?
There are several potential solutions to the cash flow problem many consulting firms face. For example, you could require clients to pay an upfront deposit for each project, or offer monthly payment plans. One of the most effective solutions, however, is invoice factoring.
What Is Invoice Factoring?
Invoice factoring works as an arrangement where you sell your clients' invoices to a third-party, called a "factor," who becomes responsible for collecting payments. The factor typically pays you the majority of the invoice immediately. Once clients have paid invoices in full, the factor deducts its fee and sends you the remainder of collected funds to close the account.
What Are the Benefits of Invoice Factoring?
Maintaining a healthy business relationship with key clients is critical to your consulting business—one of the chief benefits of invoice factoring is that you can maintain a healthy relationship with clients, since that relationship is no longer muddied by requests for payment, requests that can sometimes lead clients to search for another consulting firm.
In addition, working with a factor can remove the need for your firm to take on additional debt to maintain a healthy cash flow. This is especially important for firms whose credit limit is already stretched. With invoice factoring, you avoid the need to submit to yet another credit check or open an additional line or credit.
How Do I Find the Best Factoring Company for My Business?
Different factoring companies have various levels of expertise, and serve different kinds of businesses. They also have varying fee structures, contract terms and programs. The goal is to find the factoring company which is best for your consulting firm. Doing so requires considering several factors, including the following three:
1. Which Type of Factoring Company Is Best for Me?
There are 3 basic types of factoring arrangements:
Recourse factoring – This arrangement is the most common and the least expensive of the options. You, the consulting firm, assume the risk if clients fail to pay the factoring company, so make sure you choose to work with a factoring company who helps with credit services. By finding a partner who provides strong credit analysis of your clients, you will be in a better position to ensure full repayment.
Non-recourse factoring –  In this scenario, the factoring company assumes the risk for non-payment. In other words, if your client fails to pay, you are not responsible to repay the factoring company. Because risk is higher for the factoring company, they tend to charge higher fees.
Spot factoring – This entails a single invoice payment on a one-time basis.
2. How Much Will it Cost?
It's important to compare multiple factoring companies before you make your final selection. Read the fine print in your contract, because their fee structures vary greatly. Pay special attention to advance, factoring fees, reserve requirements and whatever additional fees the company charges (such as processing fees). If you find the several proposals you receive confusing, check with a trusted bank partner or financing company to help you make your choice.
3. How Will They Treat My Clients?
The last thing you need is for a third-party to employ the aggressive tactics of some collection agencies—that can defeat the purpose of hiring the factoring company in the first place, since you could lose clients and needed revenues. Make sure the factoring company you choose will provide the same level of customer service you, yourself, provide your valued clients. Before making your final selection, check for customer reviews, and always ask the factoring company for references.
Conclusion
Successfully managing your consulting firm can be complicated, and you can't expect yourself to be an expert on every subject. From time to time, you'll need to work with a trusted and experienced partner, whether you need help with invoice factoring, accounts receivable financing, or asset based lending. To learn more about the ways The Southern Bank Company can help you grow your consulting firm and maximize profits, contact us today.
Factoring for Manufacturing Companies
Earning a top position among manufacturing companies is becoming increasingly difficult due to the rapidly changing landscape of the manufacturing industry. Amid the many challenges facing manufacturers today are employee skills gaps, cash flow hindrances, and keeping up with innovation. Here at altLINE, our team specializes in factoring for manufacturing companies. Below we look at the top three challenges facing companies as they strive to prosper in the increasingly competitive manufacturing industry.
Challenge 1: Skills Gap
Since the end of the recession in 2009, job postings in the manufacturing industry have increased 280% while the percentage of people hired has risen at a small fraction of that rate. The Wall Street Journal and other sources point to a skills gap to explain why thousands of manufacturing jobs were unfilled despite the number of open positions being the highest since 2001. Specifically, today's manufacturing jobs require a host of technical skills which applicants lack.
While manufacturers do not have direct control over the statistics above, they can meet the skills gap challenge head on with a strong commitment to robust on-the-job training. Employers must be more willing to hire motivated job candidates who display basic proficiency for a manufacturing position and a strong aptitude for learning. Then, they must follow through by keeping employees engaged in the training process.
Challenge 2: Cash Flow Problems
Cash flow problems can present a serious threat to manufacturers, especially when they arise during peak seasons. Many factors cause cash flow problems, but there are several reasons why manufactures find themselves short on cash. The majority of these problems relate to slow paying customers or the receipt of an unexpected large order that becomes difficult to fill.
The good news about cash flow problems lies in the wide array of options to resolving them. The key to conquering cash flow problems is to adopt one or more of the following strategies:
Screen new clients more carefully before extending payment terms
Offer discounts or other incentives to customers who pay in advance
Strengthen your collections efforts to obtain payment from delinquent clients
Utilize invoice factoring to revitalize your cash flow
Invoice Factoring for Manufacturing Companies
Unlike the first three strategies, invoice factoring can make a big impact in a short amount of time. Invoice factoring is particularly effective because it can generate cash quickly with little impact on the customer relationship. Since a factoring company advances funds against outstanding invoices, customers do not feel pressured to pay invoices more quickly than originally stipulated. A manufacturer should consider a customer's credit quality, payment history, and longevity prior to using invoice factoring to address cash flow problems. Factoring companies will use those criteria to assess a manufacturer's fit for invoice factoring. Take a look at this table to see which type of financing fits your business.
Challenge #3: Increased Automation and Innovation
The benefits of automation are undeniable. Increased efficiency, a reduction in errors, and faster production comprise three of the most impressive benefits offered by automation. However, automation requires investment and a culture of innovation. Manufacturers must be ready to address these potential growing pains associated with the introduction of automation:
Resistance to change exhibited by long-time employees
The need for increased emphasis on training of employees to oversee complex automation tools
The possibility that they will ultimately need to reduce the number of full-time employees due to automation
Successfully introducing automation to an organization requires an employer be prepared for potential employee resistance and to develop a more robust training platform. Additionally, manufacturers should highlight the ways that automation will benefit each individual employee. If employees see how they can benefit from automation, they will be more accepting of innovative changes.
Here at The Southern Bank, our team understands the industry specific needs of our clients. Our manufacturing clients rely on us to know their business's unique challenges.