Chances are if you're a business owner and you've found this article, you're considering various financing options available to you. Alternative financing options are becoming more prevalent with the expansion on online lenders, so you may be asking "What is a factoring company?"
A factoring company is a financing partner who helps businesses in need of faster cash flow. These businesses typically face timing challenges of slow-paying customers or need funds to ramp up growth. Factoring companies come in many varieties – independent financiers, financial institutions and multinational corporations to name a few.
Each factoring company has its own way of doing things, but they all share the common function of purchasing a business's accounts receivable (AR). A business's AR represents goods or services already produced and delivered to the buyer. The business has invoiced their customer which is why this type of financing is known as invoice factoring.
How Factoring Works
A factoring company works with a business, as well as with the business's customers (account debtors), to accelerate the movement of cash flow through the business. A detailed look at how factoring works shows the involvement of each party.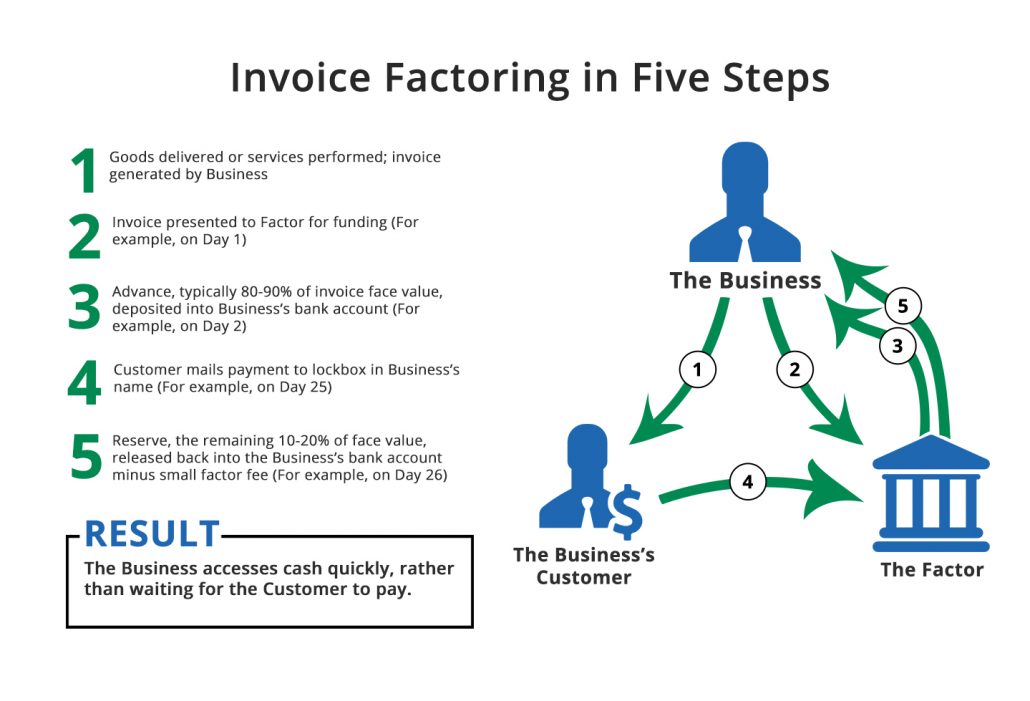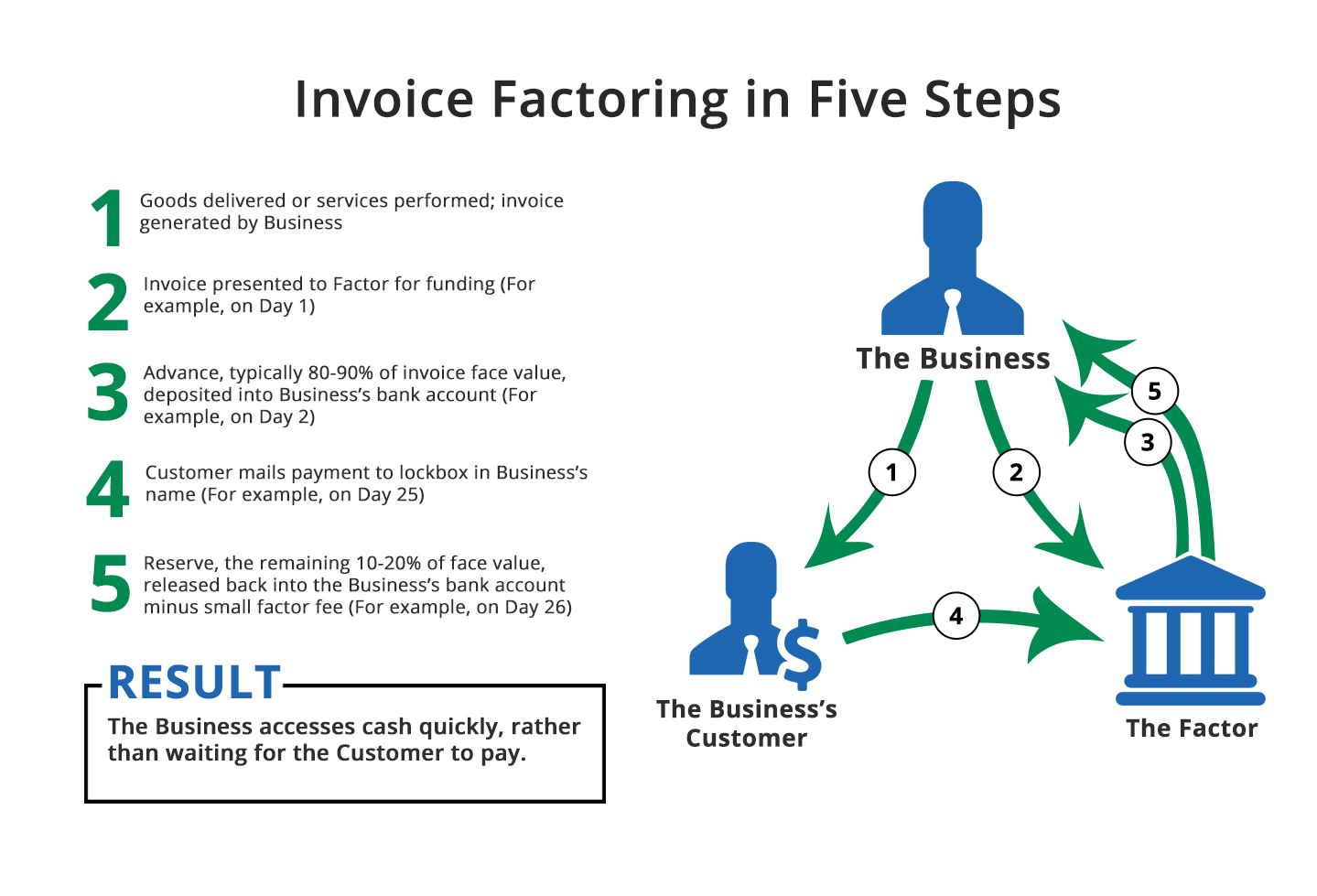 Industries that Use Factoring
A growing number of businesses are turning to invoice factoring as a reliable financing option. The Could Factoring be a Fit? table outlines the typical needs and profile of a business looking at financing options.
Businesses that operate in a business-to-business setting where invoices are generated are ideal for factoring. The most common industries utilizing factoring include:
• Staffing
• Distribution
• Facility Services
• Manufacturing
• Consulting
• Food & Beverage
• Wholesale
• Professional Services
• Textile & Apparel
• Oil & Gas
• Janitorial Services
Factoring Company Helps Toy Manufacturer
An example illustrates how a factoring company helps a manufacturer take advantage of a growth opportunity:
Imagine a small toy manufacturer ABC Toys selling child walkers that light-up and play music. The company receives an order from Wal-Mart for 10,000 units for a face value of $1,000,000 so the wholesale price is $100. Payment terms are three months after the goods are received.
The manufacturing cost per unit of $50 includes the electronics, plastic materials, assembly and shipping. After spending the $500,000 to produce the product, ABC Toys is running short on cash and eager to fulfill more orders at Wal-Mart or other stores while they wait the three months for payment. ABC Toys will lose the opportunity to produce more unless they come up with the financing. This is where factoring comes in.
A factoring company can come in and front the $1,000,000 owed by Wal-Mart minus a small factoring fee. Everybody wins as ABC Toys gets the money to make another production run and make even more profit. Meanwhile, the factoring company awaits the $1,000,000 payment from Wal-Mart at the end of 90 days.
Benefits of Working with a Factoring Company
There are many benefits to working with a factoring company as opposed to other types of financing. These include:
• Work with start-ups and small businesses
• Cash flow improves immediately, no longer tied up in accounts receivable
• As a business grows, so does the amount of funding available
• Credit profile of business owner less important, value creditworthiness of customers
• Verification services and credit analysis offer support and peace of mind to business owner
What does a Factoring Company Look for?
Traditional commercial financing options such as bank loans and lines of credit require a strong credit profile, solid operating performance and valuable collateral. As a traditional bank lender, we know first-hand that many businesses don't meet these lending criteria. A factoring company evaluates businesses with different criteria than used for traditional lending options. This post on invoice factoring vs bank loans highlights the differences.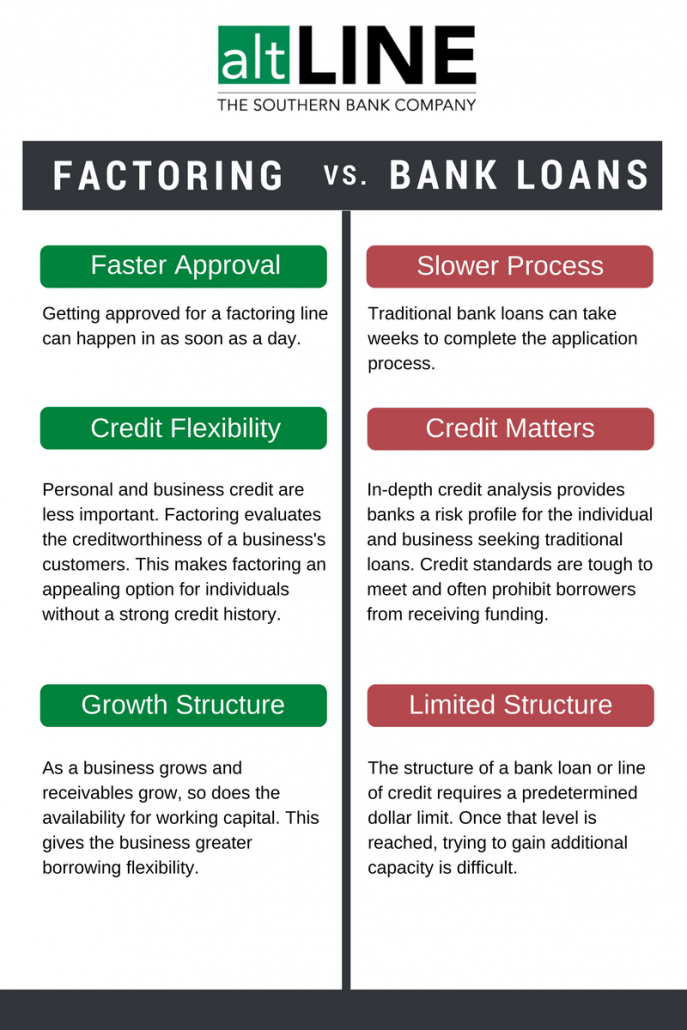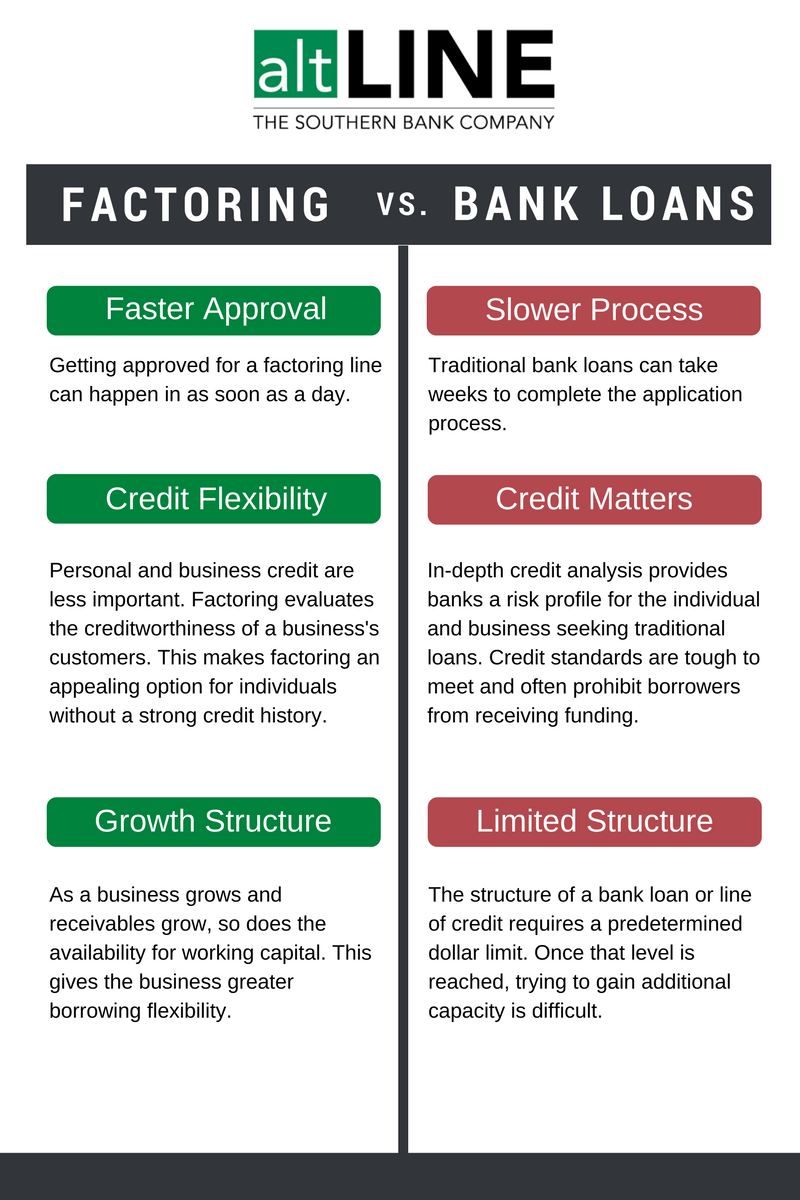 Factoring Companies Look at:
• Creditworthiness of the Business's Customers
A factoring company looks at the business's customers to assess the credit risk. Large public companies like Wal-Mart, Whole Foods, Target and Home Depot are A+ credit risks that most any factoring company will accept. Smaller firms or ones that are in a perilous financial state will require a more through underwriting process by the factoring firm which may take days or weeks.
• Average Age of Accounts Receivable
A factoring company requests an AR aging report so that they can determine the average age of accounts receivable. This is an important attribute because it indicates to the factoring company how long they will await repayment. Faster paying customers are preferred, but factoring companies will work with customers who take as long as 90 or 120 days to pay depending on their individual parameters. Slower paying customers typically equate to a higher factor fee, so it's important that the business owner understand how long it takes a customer to pay and build that amount into their margin.
• Amount of Financing the Business Needs
Factoring companies work with business of all sizes – startups to large corporations. Different factoring companies focus on different levels of financial need. Some focus on startup and small businesses, while others are better suited for multi-national companies with export and import needs. The factoring company will want to know your level of financial need – approximately how much you'll need on a monthly basis. This variable will help determine if you fit the factoring company's client profile or if they should direct you to find another financing partner. The amount your business needs will correlate to the factoring rate. Based of the economies of scale theory, a larger volume will be associated with a lower factoring rate.
• Concentration of Customers
Since a factoring company is evaluating the potential risk associated with your customer base, customer concentration will be considered. It is preferable to see a healthy mix of different customers. For example, if a single customer accounts for 90% of your revenue, this would be a red flag for a factoring company. They would be reluctant to accept the level of risk associated with having so many eggs in one basket.
Steps to Working with a Factoring Company
There are several steps to working with a factoring company.
First and most important, find a reputable factoring services provider. This can happen through a referral from a business banker or accountant. Also, business resource sites such as Business News Daily and Fit Small Business list and review factoring service providers.
Submit an application. Information about the company's history, the ownership structure, the credit history of the company and the financial state of the firm will be requested by a factoring company as part of the underwriting process.
Review proposal to ensure you fully understand rates, fees, term length and any vague language. Like any financing agreement, factoring contracts are known for their complexity. Make sure you are working with a partner who can walk you through each step of the way with full transparency.
Integrate your factoring company into your process. Your chosen factoring company will become an extension of your business. They will process your receivables, verify jobs and follow up on collections. When executed successfully with a reliable factoring partner, you can get back to running your business with a heightened level of flexibility that factoring brings.
Want to Know More?
If you have unanswered questions or want to know more about how a factoring company might help your business, please submit the form below and we'll be in touch soon.
.
Want to Get Started with a Quote?
https://altline.sobanco.com/wp-content/uploads/2017/10/rawpixel-com-323217.png
407
1028
Jim Pendergast
https://altline.sobanco.com/wp-content/uploads/2016/05/altLINE_SOBANCO_Logo-3_NEW-300x106.png
Jim Pendergast
2017-10-10 17:00:42
2018-04-24 18:02:27
What is a Factoring Company?